Upper Crust: Pain aux Cerises Wooden Wick Candle
Regular price

Sale price

$19.50

Unit price

per
Limited Edition Scent

This scent is available for a limited time only. Want it to stick around?
Evoke the simplicity and tranquility of idyllic country living with Pain aux Cerises (Cherry Croissant). This enchanting fragrance, inspired by the charm of the cottagecore aesthetic, beautifully captures the essence of nature's bounty and homely comforts.
Immerse yourself in the aromatic richness of lush orchards, symbolized by top notes of juicy cherries, ripe strawberries, plump plums, and rich black currants. A hint of almond seamlessly blends with these fruits, creating a soothing, pastoral warmth reminiscent of handpicked harvests and fruit-laden farmhouse tables.
The heart of this olfactory journey is as comforting as a well-loved quilt, marked by sweet swirls of honey-infused vanilla. This gentle sweetness, reminiscent of cherished homemade desserts, provides a sense of nostalgia and warmth.
The aroma of toasted flaky bread, butter, and golden crust complete the fragrance. These base notes, capturing the essence of a freshly baked cherry pastry, transform your surroundings into a rustic countryside kitchen.
Every flicker of our Pain aux Cerises candle evokes a day spent in a cozy, sun-dappled cottage, surrounded by nature's splendor and a warm sense of home. It's an intimate, enchanting escape into your very own rural paradise.
Pain aux Cerises is a wood wick candle. Wood wicks should be kept trimmed to 1/4 inch to maintain a steady flame that is free of sparks.
Mood: freshly baked pastries, bright summer mornings
Scent Family: fruity, gourmand, vanillas
Wax: 6.5 oz
Candle size: Medium
Burn time: Approximately 50 hours or more
Scroll to the bottom of the page for a link to our candle care and safety blog post.
Share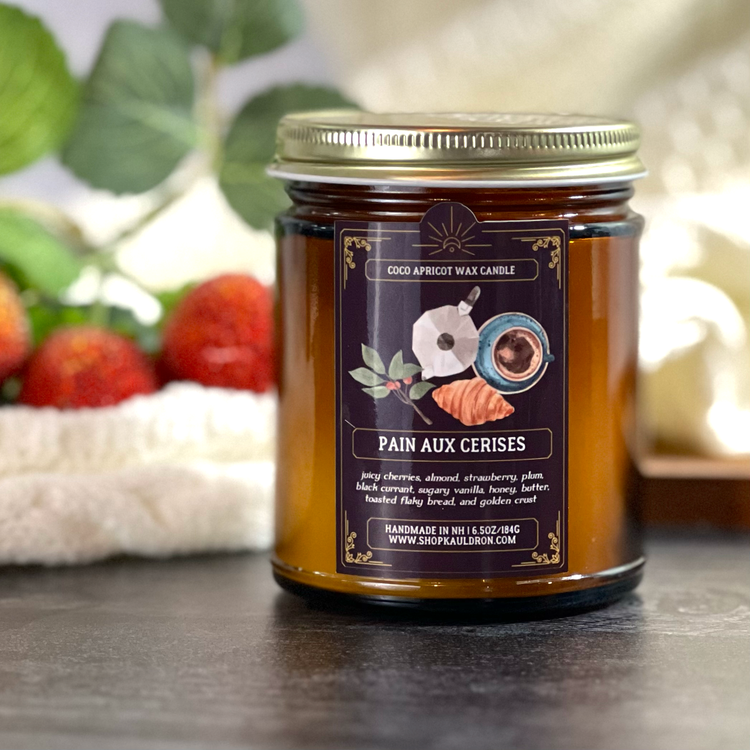 Quick tips for your Kauldron candle
☾ Allow candle to burn for at least 2 hours and no more than 4 during the first burn to allow wax to melt all the way to the edges
☾ Do not burn candle for longer than 3-4 hours at a time
☾ Always trim the wick 1/4 inch prior to burning to prevent mushrooming and sooting, improper candle care can result in sooting or candle tunneling
More Candle Safety Information