Upper Crust: Pain au Citron Wooden Wick Candle
Regular price

Sale price

$19.50

Unit price

per
Limited Edition Scent

This scent is available for a limited time only. Want it to stick around?
Evoke the spirit of a cozy, sunlit patisserie nestled on a cobblestone street in the heart of Paris with our Pain au Citron (Lemon Croissant). This unique fragrance is an homage to the art of French baking, capturing the aromatic allure of a freshly baked lemon croissant.
Your olfactory journey begins with an invigorating burst of zesty lemon paired with warm ginger, painting a vivid picture of a bright morning in the city of light. This sparkling opening is followed by a heart of exotic spices - cinnamon bark, nutmeg, and clove leaf.
As the fragrance unfolds, it reveals a comforting note of sweet vanilla, mirroring the soft, creamy filling of a delectable croissant. This exquisite aroma journey culminates with the scent of butter, toasted flaky bread, and golden crust, encapsulating the irreplaceable comfort of a warm pastry fresh out of the oven.
With every flicker of the Pain au Citron candle, transform your space into a quaint French patisserie, where the windows fog up with warmth and every breath is filled with the enticing aroma of artisanal baking.
Pain au Citron is a wood wick candle. Wood wicks should be kept trimmed to 1/4 inch to maintain a steady flame that is free of sparks.
Mood: freshly baked pastries, the sun hitting your cheeks
Scent Family: bright citrus, gourmand, vanillas
Wax: 6.5 oz
Candle size: Medium
Burn time: Approximately 50 hours or more
Scroll to the bottom of the page for a link to our candle care and safety blog post.
Share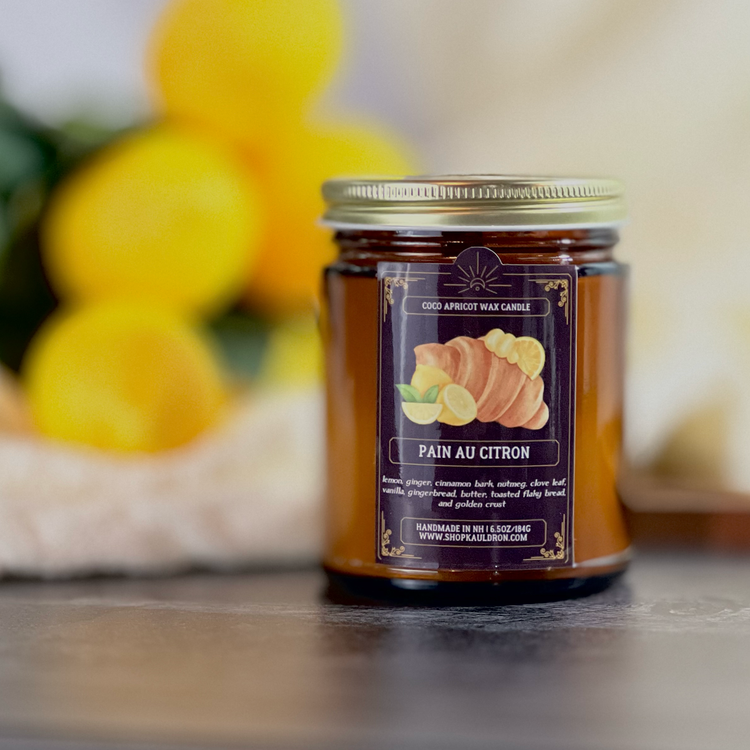 Quick tips for your Kauldron candle
☾ Allow candle to burn for at least 2 hours and no more than 4 during the first burn to allow wax to melt all the way to the edges
☾ Do not burn candle for longer than 3-4 hours at a time
☾ Always trim the wick 1/4 inch prior to burning to prevent mushrooming and sooting, improper candle care can result in sooting or candle tunneling
More Candle Safety Information