Upper Crust: Pain au Chocolat Wooden Wick Candle
Regular price

Sale price

$19.50

Unit price

per
Limited Edition Scent

This scent is available for a limited time only. Want it to stick around?
Dive into a world of delectable indulgence with Pain au Chocolat (Chocolate Croissant). This expertly crafted fragrance encapsulates the allure of a Parisian patisserie, treating your senses to the irresistible aroma of a classic French pastry.
The scent story begins with an intoxicating burst of rich dark chocolate, sure to enthrall the most discerning chocolate lovers. The deep cocoa notes are beautifully counterbalanced by the tantalizing sweetness of crystallized sugar, perfectly capturing the fine balance between bitter and sweet that defines a premium pain au chocolat.
As the candle continues to burn, the aroma matures to reveal the heart of the fragrance - a comforting blend of nutty vanilla. This note effortlessly complements the initial chocolate, enhancing the complexity of the aroma with its creamy, soft warmth, akin to a rich, buttery filling.
As the sensory experience draws to a close, the comforting scent of butter, toasted flaky bread, and a golden crust make their appearance. These base notes embody the essence of a perfect pastry, freshly baked and straight out of the oven, transforming your space into a quaint French bakery.
Every flicker of the Pain au Chocolat scented candle is a delight, filling your home with a sumptuously warm, inviting ambience. Whether you're looking to unwind after a long day or create a cozy atmosphere for a night in, this candle offers the perfect aromatic escape.
Pain au Chocolat is a wood wick candle. Wood wicks should be kept trimmed to 1/4 inch to maintain a steady flame that is free of sparks.
Mood: freshly baked pastries, indulgence 
Scent Family: rich chocolate, gourmand, vanillas
Wax: 6.5 oz
Candle size: Medium
Burn time: Approximately 50 hours or more
Scroll to the bottom of the page for a link to our candle care and safety blog post.
Share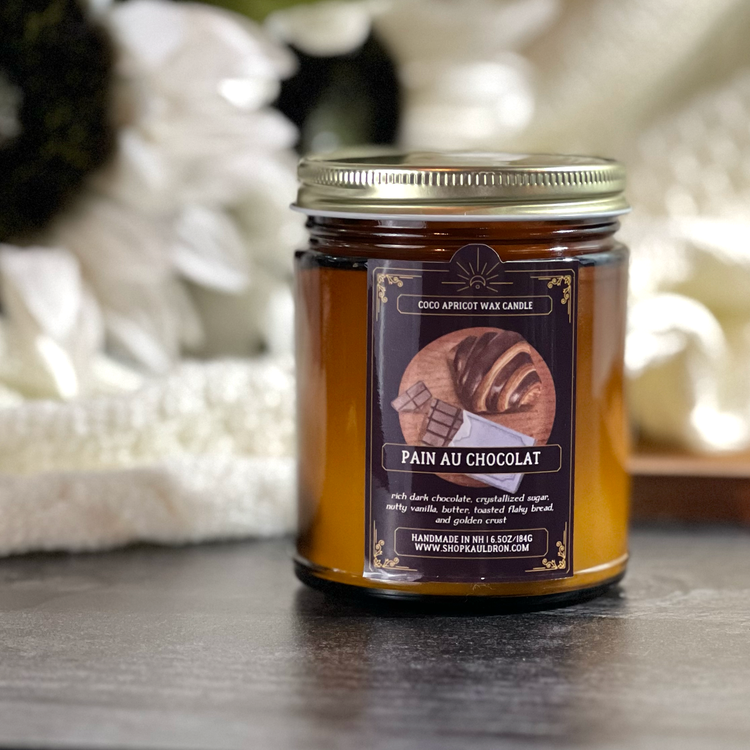 Quick tips for your Kauldron candle
☾ Allow candle to burn for at least 2 hours and no more than 4 during the first burn to allow wax to melt all the way to the edges
☾ Do not burn candle for longer than 3-4 hours at a time
☾ Always trim the wick 1/4 inch prior to burning to prevent mushrooming and sooting, improper candle care can result in sooting or candle tunneling
More Candle Safety Information