Pumpkin Patisserie Wooden Wick Candle
Regular price

Sale price

$19.50

Unit price

per
Limited Edition Scent

This scent is available for a limited time only. Want it to stick around?
Embrace the comforting allure of Pumpkin Patisserie, a scent that captures the essence of a lovingly baked dessert in a cozy, welcoming kitchen. This fragrant delight will take you on a nostalgic journey back to simpler times, where the aroma of baked goods wafting through the house was the signal of shared stories and laughter around the table.
Upon first light, delicious top notes of creamy pumpkin and brown sugar gently float up, enveloping the room with the wholesome, heartening scent of a lovingly prepared homemade treat. This aroma, with its naturally sweet and earthy undertones, is as warm and inviting as a kitchen bustling with family and overflowing with love and good food.
As the candle continues to glow, a symphony of spices unfurls. Middle notes of nutmeg and clove bud seamlessly intermingle, creating a spiced melody that feels like a cozy blanket on a chilly autumn day. These intoxicating scents stir up memories of comforting family traditions, joyous laughter echoing through the house, and the warm glow of shared meals.
Finally, a tender note of bakery vanilla arises, adding a layer of sweet comfort to the heart-warming ensemble. This rich vanilla scent, reminiscent of a lovingly iced pumpkin loaf cooling on the kitchen counter, adds a gentle sweetness that lingers, instilling a sense of tranquility and homey contentment.
Pumpkin Patisserie is a comforting caress, a homely embrace, a memory wrapped in the warmth of the heart's hearth. Let the gentle flicker of its flame and its soothing, inviting scent transport you back to a place of heart-warming love and comforting simplicity.
Pumpkin Patisserie is a wood wick candle. Wood wicks should be kept trimmed to 1/4 inch to maintain a steady flame that is free of sparks.
Mood: freshly baked pumpkin rolls, the first turned leaf of autumn
Scent Family: vanillas, gourmand, pumpkin
Wax: 6.5 oz
Candle size: Medium
Burn time: Approximately 50 hours or more
Scroll to the bottom of the page for a link to our candle care and safety blog post.
Share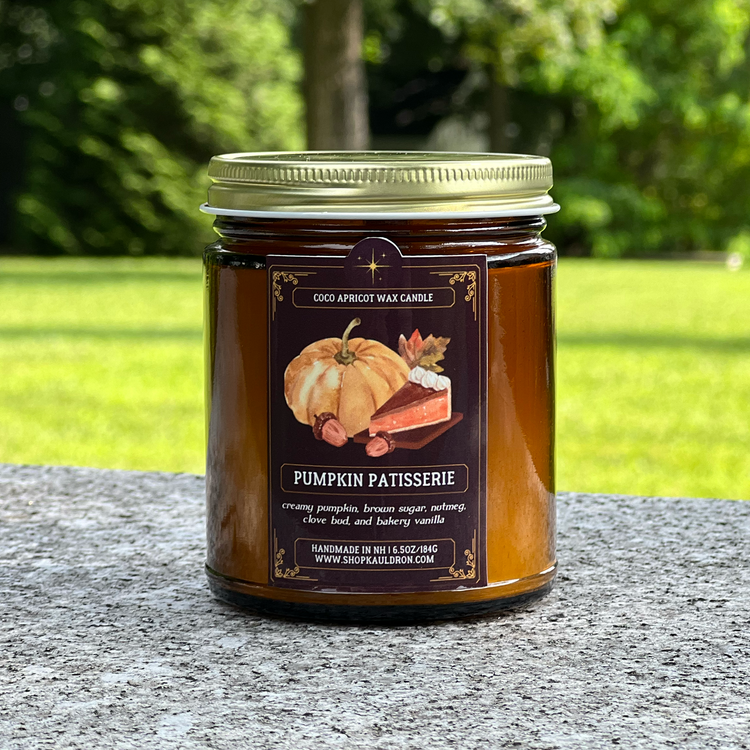 Quick tips for your Kauldron candle
☾ Allow candle to burn for at least 2 hours and no more than 4 during the first burn to allow wax to melt all the way to the edges
☾ Do not burn candle for longer than 3-4 hours at a time
☾ Always trim the wick 1/4 inch prior to burning to prevent mushrooming and sooting, improper candle care can result in sooting or candle tunneling
More Candle Safety Information