Nevermore Wax Melts
Regular price

Sale price

$13.00

Unit price

per
Limited Edition Scent

This scent is available for a limited time only. Want it to stick around?
Dive into the opulent essence of Nevermore, drawing inspiration from the intricate allure of Edgar Allan Poe's tales. As they begin to melt, a vivid burst of lemon zest, orange rind, and delicate apricot tantalizes the senses, reminiscent of the hopeful beginnings of Poe's narratives. Journey onward to discover the comforting warmth of buttercream and caramel, balanced by the mysterious depths of pumpkin, ginger, nutmeg, clove, and a smoky hint of chipotle. The scent evolves, revealing a backdrop of mahogany woods intertwined with earthy patchouli and spiritual yerba santa. Sweet undertones of burnt sugar, vanilla, and maple complement the aroma, culminating in the luxurious embrace of tonka beans. These wax melts promise a sensory voyage through Poe's haunting world, filled with dark romanticism and layers of complexity.
Always Prioritize Safety
Unattended warmers are a risk. Stay vigilant.
A heat-resistant surface is your warmer's best friend.
Kids and pets? Keep them at a safe distance.
Never mix your wax with any liquids.
Wax Melt Facts
Our melts are made with paraffin free coconut and soy wax
They contain a highly concentrated fragrance oil load, designed to fill your space with strong scent
Our matte black melt boxes contain 2.8oz of wax
12 wax melt cubes are included
Our scents are phthalate free and we prioritize eco-friendly raw materials
Share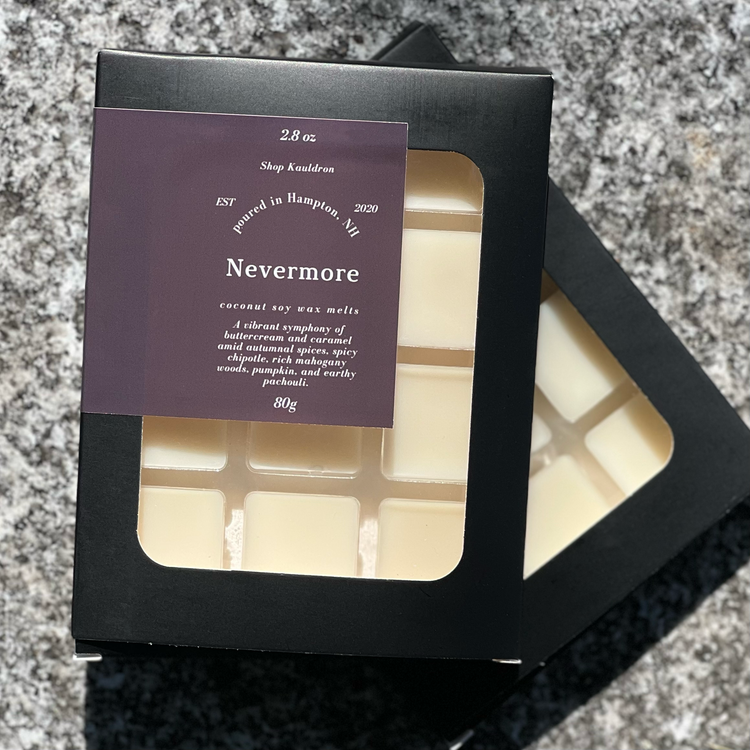 Quick tips for your Kauldron candle
☾ Allow candle to burn for at least 2 hours and no more than 4 during the first burn to allow wax to melt all the way to the edges
☾ Do not burn candle for longer than 3-4 hours at a time
☾ Always trim the wick 1/4 inch prior to burning to prevent mushrooming and sooting, improper candle care can result in sooting or candle tunneling
More Candle Safety Information